In order to view the MSD pdf-format brochures, you need to have Adobe Acrobat Reader installed on your computer. Adobe Acrobat Reader is available for free download at
http://www.adobe.com/
.
Safety with Pickling Chemicals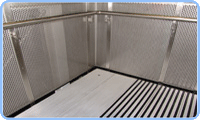 Avesta Pickling Chemicals are hazardous substances, so the user must be protected against fumes and splahes. Information on handling these substances can be found in the data sheets included within the products section.
Mister Stainless is the total cleaning solution for the preserving of Stainless Steel. We offer a complete range of cleaning services for a range of stainless steel grades. Mister Stainless can facilitate Handover and Maintenance cleaning of stainless steel architectural structures.