Who are we?
We are now part of ArcTec Welding Ltd and we will continue to provide chemicals and technical information for the cleaning, restoring, and passivating of different types of stainless steel grades and surfaces.

In conjuction with Avesta Finishing Chemicals we have formulated packages to suit almost every type of application eg: fabrication, architectural, handover cleaning in new buildings, maintenance of indoor stainless steel surfaces in exsisting buildings, railway and bus stations, bridges, handrails, to name but a few.
No job too big, or too small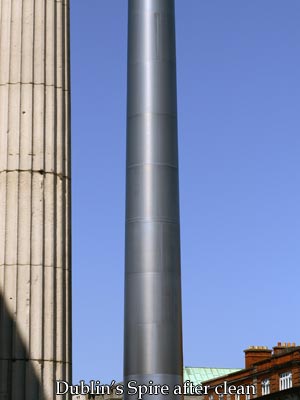 Here at Mister Stainless we pride ourselves on our ability to provide services for a wide varity of locations. We can access all heights, provide correct cleaning procedures, and advise on aftercare maintenance.

Our long involvment in the stainless steel business has given us the professional know-how and expertise to deliver to a service that is second to none.
Mister Stainless is the total cleaning solution for the preserving of Stainless Steel. We offer a complete range of cleaning services for a range of stainless steel grades. Mister Stainless can facilitate Handover and Maintenance cleaning of stainless steel architectural structures.