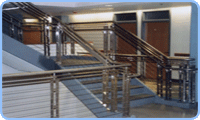 Indoor aftercare
Typical applications are elevators, skirting boards, hand rails etc. Firstly we would insist on following all safety measures when handling chemicals. These measures can be found in the MSD section.
The Procedure involved in indoor aftercare begins with an Inspection. Firstly make sure that surfaces are not covered with plastic protective film and are not contaminated with dirt, oil or grease. In case of this, the surface needs to be pre-treated with Avesta Original Finish Grease Remover 430.
Remove the plastic protective film on the stainless steel surface. Spray on Avesta Original Finish Fingerprint Remover 420 evenly over the surface to be treated. Wait 15 seconds and then wipe the surface in the same direction as the grinding with a clean, dry cloth or lint free paper. Do not wipe in a circular direction. Repeat the treament if the result is not satisfactory. A maximum of 1 metre sq should be treated at a time.
Outdoor aftercare
For all outdoor maintenance there will be a customized SOP (Standard Operating Procedure) for each individual application. All sites will naturally differ, and therefore all maintenance requirements will differ too. This is the reason why we use a customized SOP to meet all criteria eg: cost, appearance, safety and life cycle.
Mister Stainless is the total cleaning solution for the preserving of Stainless Steel. We offer a complete range of cleaning services for a range of stainless steel grades. Mister Stainless can facilitate Handover and Maintenance cleaning of stainless steel architectural structures.